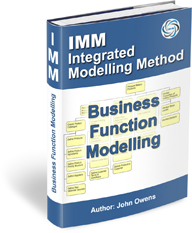 This ebook is essential reading for all Business Managers and Business Analysts who want to take the enterprise to where it ought to be in a fraction of the time of other modeling techniques.
Business Functions are the core business activities of every enterprise.  They are the reason it exists.
Business Function Modeling is the foundation and cornerstone for all other business modeling, including Process and Data Modeling.


Product Description
Product Description
The Business Function Model ebook (BFM) is by far the most powerful business model in the toolkit of any serious business analyst/modeller.
This model is the foundation on which all other business models are built, including Process Models, Information Flow Models, Data Structure Models, etc.
The BFM unambiguously defines WHAT it is that the enterprise OUGHT to be doing. It is the only model that enables the Future State of the business to be modelled straightaway without having to go through the expense, pain and waste of modelling 'As-Is' Business Processes.
If business models are not based on the BFM then, sadly, they lack integrity.
If you want to be able to realise real business benefits from all Business Systems Development, Business Process Modeling, BPI, BPM and BPR projects, then this book is a "must have".
This eBook describes in detail how to carry out all of the stages of building high-quality, complete and robust Business Function Models at an accelerated pace.
It tells you:
Where to start and who to interview.
How to carry out strategic interviews with the most senior executives in any enterprise.
The eight key questions to ask that will enable you to extract all the information you need to model the enterprise.
How to extract business functions from transcripts of these interviews in order to build a complete Business Function Model for all part of an enterprise of any size and in any business sector.
How to extract all of the other relevant key business drivers from strategy interview transcripts, including:

Business Aims and Objectives
SWOT (Strenghts, Weaknesses, Opportunities and Threats)
KPIs (Key Performance Indicators)
Critical Success Factors

How to run detailed modelling workshops with middle managers.
How to structure and tune the Business Function Model
If you want to give yourself access to what is perhaps the most powerful business modelling technique around today, then buy and study this book in detail.
The book also contains a complete set of challenging exercises, together with fully detailed solutions that reveal some of the key approaches and thinking habits that will take your business analysis and modelling skills and practice to a whole new level.