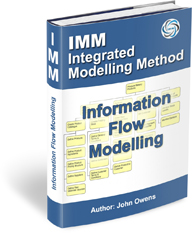 Product Description
When it is important to know how information flows into, around and out of the business, you need an Information Flow Model.
This technique is similar to Data Flow Diagrams (DFD), however, it is also essentially different in that it avoids all of the pitfalls of that method, such as decomposition and 'leveling'.
IMM makes this technique even more powerful because it fully integrates it with the Business Function and Data Structure models of the enterprise.