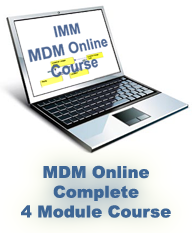 This Course on Multi-Dimensional Master Data Management (MDM) is probably the most innovative and pragmatic course on MDM available online today.
In this course, John Owens, the creator of the Integrated Modelling Method (IMM) introduces  and expands on the thinking and techniques of Multi-Dimensional MDM, a radically new and  completely  innovative approach to Master Data Management that avoids all of the pitfalls and misconceptions that plague traditional practices in this area.


Product Description
This online course, designed personally by John Owens the creator or the Integrated Modelling Method (IMM), introduces his latest development, Multi-Dimensional MDM, which is probably the most innovative and pragmatic approach to successful Master Data Management currently available.
Its insights and innovations to Master Data Management (MDM) will enable you to avoid all of the misconceptions surrounding the traditional thinking on this subject. It introduces and demonstrates techniques that will enable you to master this topic at all levels.
Its training is suitable for all MDM practitioners, whether they be Novice or Master.
Its completely innovative thinking and modelling techniques will greatly improve both your MDM thinking and practices, no matter what your current level of knowledge.
This course is designed specifically for online study, which means that you can work at your own pace and in your own time.
There's no need to take time off work for training in order to stay ahead of the game.
The course materials include a full set of Logical Data Models for each of the Master Data Entity areas of Product, Party, Location and Asset, that you can take back and use in your own MDM work.
After you purchase these MDM course modules, you will receive a link to a downloadable file that gives full details on how to access the modules.