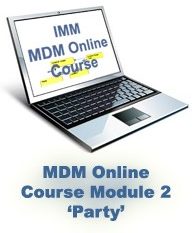 This online training course is the second module in the series of four on Multi-Dimensional Master Data Management (MDM).
It presents a really powerful and innovative approach on how to identify, model and manage the most misunderstood Master Data Entity of all, namely, PARTY.
Multi-Dimensional MDM is ALL ABOUT getting MDM to bring real business benefits to the enterprise.


Product Description
This module will come as a shock to many MDM practitioners as it reveals that 'Customer' is NOT a Master Entity (nor, for that matter are 'Supplier', 'Employee', etc.) but then goes on to explain why and introduces the extremely powerful and almost infinitely flexible Master Entities of Party and Party Role.
The thinking and techniques in this module will bring real power to any enterprise that follows them when addressing MDM around anything involving the relationship an enterprise has with external entities.
Further, if you are interested in how MDM can be used to achieve really high-quality Customer Relationship Management (CRM), then this module is a MUST!
The approach that it takes to Party and Party Role probably make this module one of the most innovative and pragmatic courses on Master Data Entity Management available online today.
Though powerful in its content, it is designed and written in such a way as to make it suitable for both Novice and Expert alike.
After you purchase this MDM course module, you will receive a link to a downloadable file that gives full details on how to access the module.