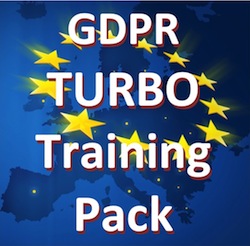 GDPR Turbo Pack
The General Data Protection Regulation (GDPR) is identifying and eliminating GDPR risks from your business.
So, before you set out on an expensive GDPR project, first find out if your business is actually at risk.
This is what we did in our business and it saved us LOTS of TIME, STRESS and MONEY.
In order to enable us to do this easily and effectively, we developed and used a step-by-step approach comprising the following three steps:
Identifying any risks that existed with the way we collected or used Personal Data.
Evaluating each of these risks and proposing solutions for eliminating them.
Eliminating or reducing these risks by implementing the proposed solutions in Step 2.
Identifying Risks
The way we did this was to develop a really simple, yet VERY POWERFUL, step-by-step approach by which we could easily and quickly identify anywhere we were at risk when collecting or using Personal Data and what caused this risk.
This risk identification information is not just a "nice to know", it is ESSENTIAL if Business Owners, Board Members and Executives are to know, not just the financial risks for the business under GDPR, but also their own individual financial risks that GDPR can impose on them as officers and directors of the enterprise.
Evaluating Risks
Having identified all GDPR risks, we then evaluated these risks and developed a proposed approach to eliminating each one.
This evaluation stage was invaluable for Scoping, Planning and Budgeting the risk elimination of our GDPR Project.
Because we were able to Scope and Plan our project effectively, this removed the guesswork when developing the Project Budget, which in turn made it much easier to ensure that the required resources and funds were available.
Eliminating Risks
Now that we knew what our GDPR risks were and had developed effective proposed solutions for their removal, it was relatively easy to launch the Risk Elimination phase of our GDPR Project.
Once again, we were able to use its step-by-step approach that we used in the first two phases to remove all of the identified risks, while, at the same time, cataloguing all of the system and process changes that were needed in order to achieve this.
A major added benefit of the approach was that it enabled us to record everything we did, as we did it. This provided an essential audit trail both for ourselves as business owners and officers and also for the GDPR regulators, should they ever come calling.
GDPR Turbo Pack is Born
We found this approach to be so powerful that we decided to turn it into a product that we could share with others.
This is how this GDPR Turbo Pack product came into being.
This product is designed so that it can be used by businesses of ALL types and sizes to identify any GDPR risks they might have, evaluate these and develop proposed actions for their removal and then implement these proposed actions.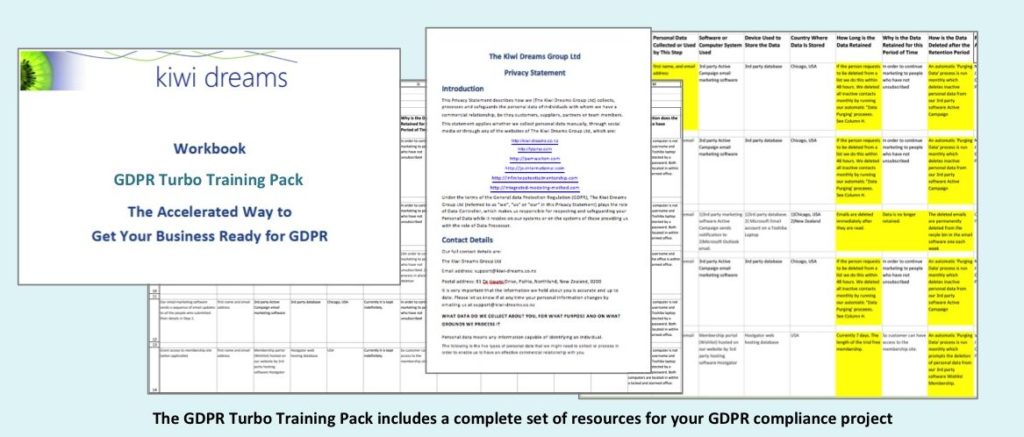 Who Is It For?
The Turbo Pack Product has been designed in such a way that is can be used by ANY TYPE and SIZE of BUSINESS including:
Large Corporates who need a fast way to identify their overall risk exposure under GDPR.
ALL business of any size who operate within the European Economic Area.
Solopreneurs operating in a global market.
Consultants and Contractors who are involved with GDPR projects for client businesses.
Hotels, motels, B&Bs and other accommodation businesses with overseas clients.
Crucial for tourism operators who welcome visitors from around the world.
Businesses that process personal data on behalf of other businesses, if that data includes personal data of individuals located within the EEA.
... ANY type of business that collects or processes personal data of individuals who come from within the EEA.
What Can It Do?
This GDPR Turbo Pack will enable you to:
Identify all processes in your business that collect or process personal data protected by GDPR.
Have a step-by-step approach to identify and catalogue any risks that these processes represent for this personal data.
Have a step-by-step approach to remove all of these risks, following a detailed step-by-step approach.
To leave a fully documented audit trail that will satisfy both the requirements of business management and those of the GDPR regulators.
Have a clear understanding of the General Data Protection Regulation (GDPR) and how it applies to your business.
Know the major legal roles within the GDPR and know which of these your business plays.
Create a Privacy Policy for your business that will meet the requirements of GDPR.
Make your business compliant with the requirements of the General Data Protection Regulation (GDPR).
Access on-going support through our Closed GDPR Facebook Group.
Licence for Use
When you purchase this product you purchase a licence for use for one person. Under the terms of this single-user licence:
None of the contents of the GDPR Turbo Pack can be copied, used, rebranded or sold separately to third parties.
None of the contents of the GDPR Turbo Pack can be embedded in a separate product without the prior written agreement of the management of The Integrated Modeling Method.
If you require a multi-user licence for larger teams, then please contact, John Owens at john@integrated-modeling-method.com who will be pleased to arrange this for you.
Legal Disclaimer
Nothing in this GDPR Turbo Pack product should be construed as legal advice. All of the documents and tools in this product represent the step-by-step approach that we took to make our businesses compliant with the requirements of the GDPR are suggested as actionable items that you might wish to take or use to frame discussions with your legal advisors.