Areas of Expertise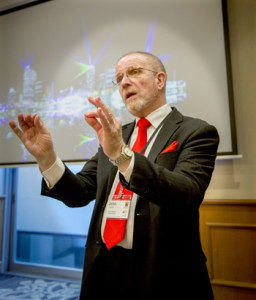 John has an international reputation as a highly motivational thought leader and communicator in the  all of the following areas:
Master Data Management (MDM)
Data Quality
Business Function Modeling
Data Structure Modeling
Business Process and Procedure Modelling
Business Process Management and Business Process Re-Engineering
Rapid Business Transformation.
John can speak either on a preselected topic from the list below or he can prepare a talk that is specifically designed for your special audience.
Prepared Talks
The DNA of Data Quality | Duration 1 Hour.
Target Audience: This talk is ideal for both mainstream business (non-IT)  middle
managers and C–level executives and for IT managers and practitioners.
Summary: In this talk John describes how the advent of commercial computerisation resulted in information (hitherto an enterprises most prized asset) was removed from the heart of every enterprise around the globe and replaced with a far less powerful and complete entity, namely data. He explains the negative impact that this had on enterprises at a global scale but, more importantly, goes on to explain how this situation can be reversed and the power of information once again put back at the heart of every enterprise. As part of this talk, John describes how to build the two key elements that will once again place information back at the heart of the enterprise, these are the Function Genome and Data Genome. These most powerful of business  modelling tools show you:
Every data element required by your enterprise.
Which business activity creates, uses and updates each data element.
The format and structure of each data element.
The business rules governing the creation and use of data.
Which modules in which systems implement which business activities.
Which databases and tables represent which data elements.
How to build or buy systems that will meet your precise needs.
How to safely and effectively merge data from different databases and systems.
How to safely identify and drop redundant databases and systems.
With  the Function Genome and the Data Genome, you can get your data right first time, every time, delivering the correct information to your enterprise, enabling you to take it to where it ought to be, doing what it ought to be doing.
Multi-Dimensional MDM | Duration: 30 minutes.
Target Audience: This talk is ideal for both mainstream business (non-IT) middle managers and C–level executives and for IT managers and practitioners, who want to know how to practically approach and master the subject of Master Data Management in their enterprises.
Summary: In this talk  John describes is completely innovative approach to the often over-
complicated subject of Master Data Management (MDM).

This approach is designed to remove all of the mystique surrounding MDM and at the same time provide an enterprise with the means to deliver really high quality and robust results.
John describes how just six key questions will enable any enterprise, of
any size, in any sector to be able to identify all  aspects of their Master Entities. He then shows  how the power of the Logical Data Model (LDM) can be used to bring a robust simplicity to  these Master Entity structures that are normally buried in complication.
This talk on Multi-Dimensional MDM  is a must for the management and IT teams of any enterprise who want their MDM projects to be a success.
Unleashing the Power of Integrated Simplicity| Duration: 1 Hour.
Summary: Ever wondered why your business is so complex and fragmented?
"No enterprise is a complex as it seems to be nor as integrated as it ought to be."


If you want an unbeatable competitive edge then you need an uncomplicated and fully integrated enterprise.
In this insightful, provocative and empowering talk, John describes an
approach and formula for removing complexity from your enterprise that works every time and in all areas.  He will show how power and success are achieved through:
Developing a clear identity and vision for your enterprise; defining what it is that your enterprise ought to be doing and where it ought to be going.
Giving your enterprise a structure that will enable it to grow to the size that will fulfil your vision.
Having compelling strategies and techniques that enable you to remove complexity and bring the immense power of simplicity.
Replacing fragmentation with elegant and powerful integration
Identifying those drivers that accelerate simplicity, integration and growth.
Leveraging the power of simplicity and integration through collaboration.