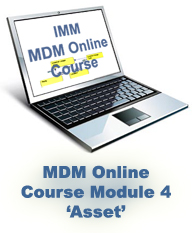 MDM Module 4 - Asset
This online training course – the fourth in the series on Master Entity Management (MDM) from IMM -  describes how to model and manage the Master Data Entity of Asset.
Asset is often called the "Forgotten Master Data Entity". However, no enterprise can deliver products or services without taking responsibility for and properly managing its Assets.
The course describes all of the various forms and structures that an Asset can take and shows how to model these in a way that will bring real benefits to the enterprise.
It also shows how the Master Entity of Asset is inextricably linked to the Master Entity of Location.
After you purchase this MDM course module, you will receive a link to a downloadable file that gives full details on how to access the module.
#MDM #ASSET #LOCATION