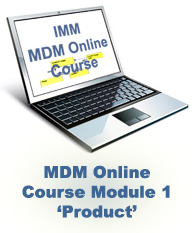 MDM Module 1 - Product
This Course introduces you to the overall concepts of Multi-Dimensional Master Data Management, a unique and powerful approach to Master Data Management (MDM) developed by John Owens, the creator of IMM, the Integrated Modelling Method.
Having laid a solid foundation with the concepts of Multi-Dimensional (MDM) it then goes on to describe in detail how to identify and model all of the varied aspects of Product, which is the Master Entity that generates all revenue for an enterprise.  It does this modelling in a way that will enable you to bring real power and benefits to Product Management in your business.
It covers the full spectrum of Products, ranging from raw materials, component products, recipes, retail products, wholesale products, bundled products all the way through to marketing products.
Although this course deals with advanced MDM concepts and structures, it is structured and presented in a way that makes it ideal for both novices and experts alike.
After you purchase this MDM course module, you will receive a link to a downloadable file that gives full details on how to access the module.
Here is what John has to say about why he created this Mult-Dimensional Master Data Management:
"I have been modelling and implementing Master Data Management structures in enterprises for more than 25 years. Over that period I have seen the general approach to MDM deteriorate, rather than improve, due to the fragmentation caused by department-centric systems. The major objective of good MDM ought to be the elimination of fragmentation and duplication of Master Entities across an enterprise. Sadly, prevailing MDM practices actually exacerbate this. I wanted to provide an approach to MDM that would enable all players in the MDM enterprise game to be able to start from their own point of view that served their own 'local' needs and yet still be able to create MDM models that would fit fully into an integrated enterprise view. This why I called this approach 'Multi-Dimensional MDM' because it enables MDM to be viewed and driven from many different enterprise points of view."
#MDM #PRODUCT