Do you work in the worlds of Master Data Management or in Customer Relationship Management?
Are you frustrated with the conventional approach to these subjects because it fails to deliver the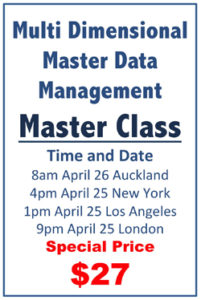 hoped for improvements?
If so, you will love the live 90 minute Master Class that I am running on April 26 2017.
In this live class I will introduce you to a new and very powerful method that I call Multi-Dimensional Master Data Management that will enable you to rethink your whole approach to MDM and CRM.
This Master Class is suitable for both novices and experts, as it starts with the basics by redefining fundamental definitions and goes on to demonstrate a complete set of powerful techniques that will enable you to bring real benefits to your enterprise.
It asks and answers basic, yet critical questions, such as:
What is Master Data and why do you need to manage it?
How is Master Data different from other data and where does it fit in with this other data – or does it?
What does Master Data Management have to do with Customer Relationship Management?
Does it make sense to deal with these two subjects in the same Master Class?
Is Master Data Management a one-off exercise or do you need to do it forever?
As I said, this live 90 minute Master Class will take place on 26 April 2017  at the very special price of only $27. I Guarantee that you will get an amazing return on your investment in terms of powerful new knowledge, or I'll give you your money back.
In the next short video introducing this Master Class I will introduce you to all of the elements of Multi-Dimensional Master Data Management – several of which you will not have heard mentioned in the mainstream worlds of MDM and CRM.
If you know of any friend or colleague who would find this master Class to be of value, then please share this link with them.
If you have a question about the Master Class, then please do not hesitate to ask it by leaving a comment below. I would love to hear from you.