Welcome to this second previewpost on the live 90 minute Master Class on Multi-Dimensional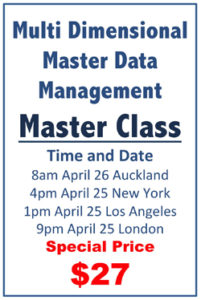 Master Data Management that I will be running on April 26 2017.
In this post I'd like to introduce you to the seven key elements that make Multi-Dimensional Master Data Management so powerful, they are:
Party
Party Relationship
Party Role
Location
Location Usage
Product
Asset
You will notice that none of the above is 'Customer' or 'Supplier' which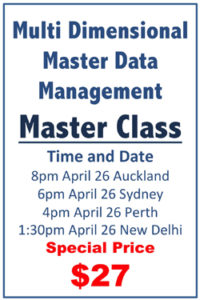 so many people in the worlds of MDM and CRM mistakenly believe to be the Master Entities.
During this Master Class I will explain exactly why 'Customer' and 'Supplier' ought not treated as Master Entities and show the power that knowing this will bring to your MDM and CRM solutions in enterprises.
In my next previewing post on this Master Class, I will introduce the very powerful elements of Party and Party Relationship and explain how they enable an enterprise to achieve so much more in the areas of sales, marketing and risk management.
This live 90 minute Master Class will take place on 26 April 2017 and the enrolment fee is set at the very special price of just US$27. I Guarantee that you will get an amazing return on your investment in terms of powerful new knowledge – or I'll refund your money.
You can enrol in either of the live classes that I will be running on 26 April. Just select the time that suits you from the images on the right of this page and go to the IMM Store to purchase your seat.
If you know of any friend or colleague who would benefit from attending this Master Class, then please share this link with them.
If you have any question on the Master Class, then please ask it by leaving a comment below. I would love to hear from you.